Preview features in TimeLog
Introduction
You find preview features under your personal settings in the top, right corner when you are logged into your TimeLog.
Description
On the page, you get an overview of which preview features that are available to you right now.
What is a preview feature?
Preview features are bigger functionalities that you can test and provide feedback to while we still develop them. It is your chance to test completely new functionality and tell us, if it covers your needs and if you have suggestions for improvement. It also provides you with the opportunity to decide when you take new features into use.
We divide preview features into alpha and beta features that influence your production data in different ways.
Alpha: Here you can test the feature from the beginning and provide your input for the upcoming development. You test new features at an early stage without affecting your production data. On this development step, you may experience that we delete test data as a consequence of the further feature development. The primary language is English, and we cannot guarantee that all parts are translated
Beta: Here you use the feature in production, as development is almost completed. You are covered by our regular support management, but you may experience that the processing time is longer than usual for these features. You can expect that most of the new feature is translated. In beta, we still receive feedback and adjust the feature based on the input we receive
As long as you test a feature in alpha, you can enable and disable it without any risks. You delete your test data each time you disable the feature, and you can start over with a new data set, if you need to. The tests you do in alpha do not affect your production data. You can test as many scenarios as you need.
When we go from alpha to beta on a feature, your test data is deleted. You need to activate the feature again as it runs in beta and affects your production data instead.
How do I use preview features?
If you are preview feature administrator, you decide at which level you want to test features in the organisation. You do that in the selection list next to each feature, where you can select:
Preview feature administrators only:

 

Only administrators can test the feature
Preview feature testers and administrators: All administrators and testers can test the feature
All employees (automatically activates feature for everyone): The feature is activated for all users in the system without the option to disable it for single users
If you are preview feature administrator or tester, you can activate and deactivate each single preview feature separately by using the slider next to Activate for me.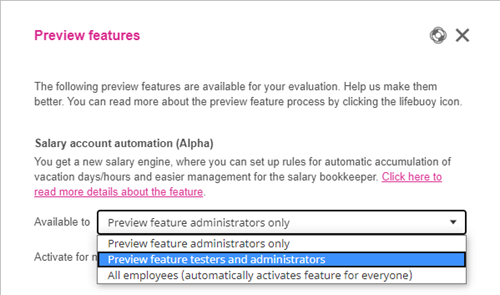 Can my colleagues use preview features?
Yes, you use the roles and rights management to decide who has access to manage and test preview features in the same way as all other pages in TimeLog.
We recommend that you create a new role for the employees who should test preview features, and a new role for the preview feature administrators. Then you can separate test of new features from access to the pages your colleagues work with every day. You need to add the Preview features are and select if the role should be administrator or tester.
It will give you the option to have test groups, where you can add the role to the employees who needs to take part of a test, and change members of the group along the way, if you need to.

What happens if I activate a preview feature?
When you activate a preview feature, you need to reload the page to get the right code base on your TimeLog. Then you can do your tests and send us your feedback.
How do I provide feedback?
You can send us your feedback by clicking the button next to each feature. It opens a new window where you can enter and send us your feedback. You can do it each day, once a week or whenever it suits you. We collect the input on an ongoing basis and incorporate them in both alpha and beta features.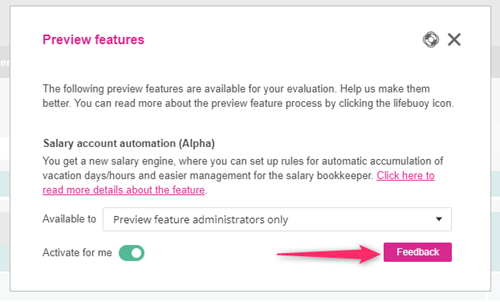 Last updated 10 Sep 2020