Installing and setting up the TimeLog Tracker for Outlook
Introduction
Learn how to install the TimeLog Tracker application for Microsoft Outlook.
Description
Setup
Before you continue, you need to activate the Outlook integration on the user. You do this via the employee's profile. Search for the employee and click the edit symbol on the employee card.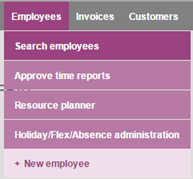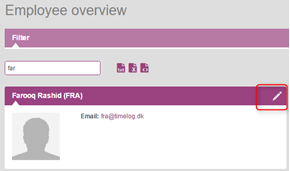 On the Employee card, you see an Outlook checkbox, which should be marked to activate the integration.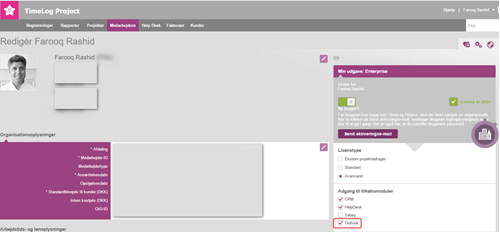 Installation
First, you close down Outlook, as the integration needs to be installed before you open up Outlook.
Hereafter, you need to navigate to the Registrations menu and select Time tracking apps to install the integration.
Download the installation from TimeLog Outlook integration. Remember to copy the URL. You need it to activate the integration.

Start the installation and complete all steps.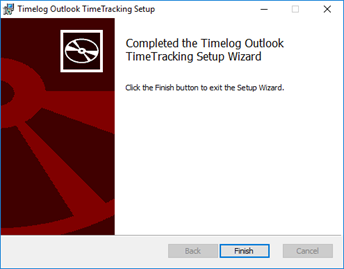 Microsoft Outlook
Open Outlook and navigate to the calendar. Here you will now see TimeLog's logo in the toolbar.

This is the plugin. If you click it, you will see a log showing the errors and messages from TimeLog.
When you create a new appointment for the first time after installing the integration, you will see a new panel where you need to enter your login information. When they are all entered, you click Test settings.

If the entered information is correct, the fields turn green and you will gain access to the registration panel to the right.

In the registration panel, you can select a customer, project and task.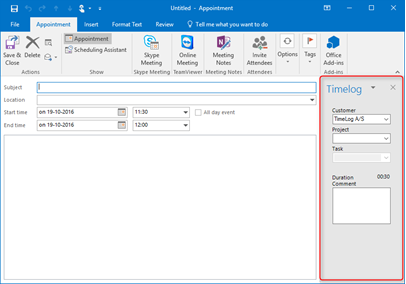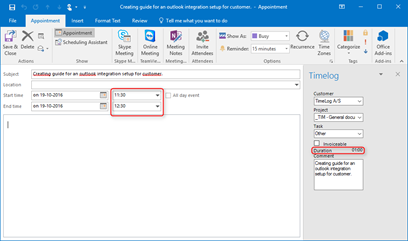 Here is an example:
 The text in the comment field is automatically taken from the subject line, and this is the one that is tranferred to your timesheet. The duration of the appointment is also automatically transferred to your timesheet.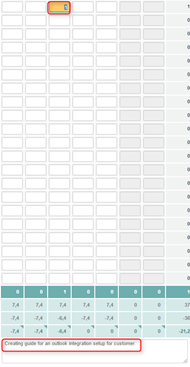 If you change data on the appointment in Outlook, the changes are automatically transferred to TimeLog.
When you book calendar events in Outlook, the resource planner is also automatically updated with the information you enter on the event. You thereby see the actual workload for your employees, and you avoid unexpected surprises in the resource planning.
Special remarks
TimeLog Tracker for Outlook is not supported in Windows for Mac, and you cannot use it when creating new events on your smartphone. If you have created an event on your Windows computer and transferred the information to TimeLog, the information will be updated, if you move your event in Outlook using your smartphone.

The Microsoft Outlook integration works with the following versions:

Exchange server 2010 and newer


Office 365
Last updated 04 Mar 2022