Hogia Lön
Introduction
You set up the integration in the System administration -> Integrations & API -> Integrations, so you can transfer configured salary data to Hogia.
Description
The integration to Hogia creates a salary file, which you can export from TimeLog and import into Hogia.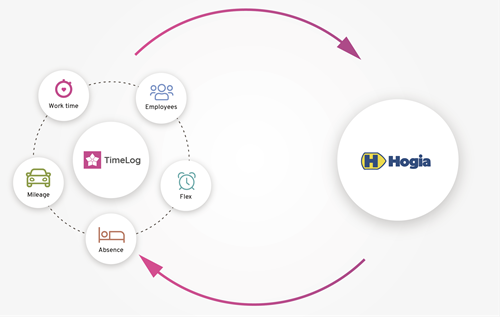 Connection setup
To get started with the integration, you first need to click Establish connection and click Activate. Then you are ready to configure the integration.
---
Select salary data for transfer
Here you select which data you would like to send to Hogia from TimeLog. To the right, you select if you have Hogia or Hogia Plus and then the configuration is complete.
---
Transfer approved salary data
When this setting is activated, you can only transfer approved salary data to your salary system. Your employees' reported salary data will show in the Transfer salary data page in the Employees menu, and the checkbox to the right of the employee row can only be checked when all data is approved by a manager.
Special remarks
To make sure the file is created correctly, you need to activate Employee ID in the system administration under Employees -> Employee module settings, and then enter an ID on each employee. It is a good idea to use the same IDs as in Hogia.
Last updated 14 Oct 2020