Zenegy
Introduction
You set up the integration in the System administration -> Integrations & API -> Integrations, so you can transfer configured salary data to Zenegy.
Description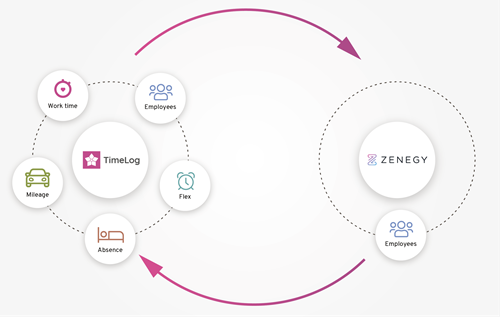 Connection setup
To get started with the integration, you first need to click Establish connection. This opens a new window, where you need to enter your e-mail and your password to Zenegy to log in. Then you need to scroll down to the bottom and click APPROVE ACCESS. Then you close the window, and you are ready to configure the integration.
We recommend that you have an extra licence for Zenegy. You need this licence to link the integration to, so you avoid to lose the connection, if a person changes login information or is no longer working at your company.
Select salary data for transfer
Here you select which data you would like to transfer to Zenegy from TimeLog.
---
Linking employee databases
The last step is to link the employee databases. TimeLog links the active employees in TimeLog with employees in Zenegy using their employee IDs and names.
Employees marked with yellow could not get an exact match.
The employees are linked by marked the checkbox next to the right of the employee name.
Select Link at the top right of the table.
Once you click OK, the data on existing TimeLog employees are overwritten with the employee information from Zenegy.
Please note: You need a TimeLog user license per employee you add in TimeLog.
---
Transfer approved salary data
When this setting is activated, you can only transfer approved salary data to your salary system. Your employees' reported salary data will show in the Transfer salary data page in the Employees menu, and the checkbox to the right of the employee row can only be checked when all data is approved by a manager.
Special remarks
Linking absence codes
For TimeLog to be able to transfer registrations on absence codes to Zenegy, the absence codes in TimeLog must have code numbers as in the example in the table below.
| | | |
| --- | --- | --- |
| Absence codes | TimeLog | Zenegy  |
| Code | Name | Name |
| 20 | Vacation  | Vacation  |
| 21 | Extra vacation day | Vacation free day |
| 25 | Paid maternity leave | Paid maternity leave |
| 26 | Unpaid paternity leave | Unpaid paternity leave |
| 30 | Illness | Illness |
| 31 | Child's first sick day | Child's sick days |

If you need to differentiate on the absence in TimeLog, it is possible to have two or more absence codes with the same number. The registrations are then summarised on the same absence type in Zenegy.
Last updated 08 Dec 2020