Top-tune your business!
Let us help you utilise your investment in TimeLog to reach your targets.
You have invested in TimeLog to support your internal business processes. We can help you make the most of your investment with the needs you have in your organisation as our point of departure.
Whether you are new in the system or have used the system for many years, there are several opportunities to move a step forward in your use of the system, so you make it support your processes
One puzzle; 1,000 pieces
Figuratively speaking, we often compare TimeLog with a 1,000 piece puzzle; It is not possible to put all pieces into place at once, and more picture elements may stand alone before they are put together as a whole.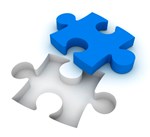 By starting in one place and thereafter extending the use as you gain experience, you prepare and get ready to try out new functionalities and processes.
Like with a puzzle, it is easier to reach the end goal in a partnership rather than doing it alone, where several other tasks are important as well.
We help you identify your needs
Your company is not static, it changed all the time as you expand with new or change existing business processes. We can help you support these in TimeLog. You can thereby grow with the system, so you utilise the many opportunities when it fits your organisation.
Put us to the test. We sometimes experience that companies work in Excel sheets outside TimeLog. Send them to us and then we can together find out if this can be managed in TimeLog, so you collect your data in one place and thereby save time on administration.  
Learn to use the new functionalities with our help
TimeLog is a system under constant development, just like your company, and the improvements are both small and big. Our experience tells us that not all customers have the extra energy to test and implement these changes. Let us help you, maybe one of the new features is the exact thing you have been waiting for.
Contact us at  enterprise@timelog.com